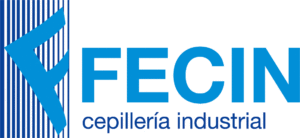 MAB.tools distributes the entire range of industrial brushes produced by FECIN.
Created in 1962, FECIN Cepillería Industrial is a family company specialized in the production of high quality industrial brushes in Spain according to the European standards EN 1083-1 and EN 1083-2.
The offer includes brushes for angle grinders with diameters from 65 mm to 175 mm, brushes for portable grinders and drills, circular brushes for bench grinders with diameters from 75 mm to 350 mm and brushes for the DIY market.
The wide range of material used for the filaments satisfies every need: AISI 304.L stainless steel, steel, brass, brass coated steel, nylon.
Fecin is the only company on the market to offer circular brushes for pipeline welding with 9 welding points to ensure perfect fixing of the knots, 40% more lifespan and total control of the removal operation.
It is important to always follow all safety rules. In particular, the correct carter must be mounted on the grinder, depending on the shape of the brush. It is also essential not to forget to wear all the personal protective equipment depicted on the brush itself.