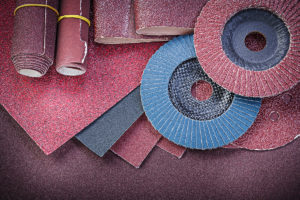 We consider coated abrasives all the tools using abrasive paper or abrasive cloth in the most disparate forms and constructions such as for example flap discs, mounted flap wheels, vulcanised fibre discs, belts and shop rolls
European norm EN 13743 specifies requirements and/or measures for removal or reduction of hazards resulting from the design and application of the coated abrasive products and clamping devices.
There are two main types of companies on the market: flexible abrasives manufacturers and flexible abrasives converters.
Flexible abrasives manufacturers starting from the raw material (special paper, cotton cloth, polyester, film, fibre) couple the flexible support to the abrasive grains through one or more layers of resins to obtain jumbo rolls (typically 1460 m by 200 m).
Converters cut the jumbo rolls into more manageable sizes to obtain sheets or mini rolls, ready for sale or to produce belts, flap discs, flap wheels, vulcanised fibre discs, products that require further processing steps such the creation of a joint or curing in dryers.